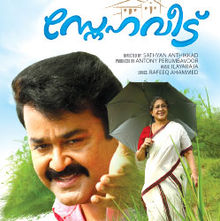 Movie Info!
Release Date : September 8, 2011
Genre :Drama
Starcast :* Mohanlal ,Sheela ,Padmapriya ,Biju Menon ,Innocent *
Description : The story revolves around Ajayan (Mohanlal), who, after having tried his luck in different cities around the world, comes back to his village to look after his ageing mother Ammukutty Amma (Sheela) and to get her love and the nostalgia of his growing up years. There, he starts a company for producing agricultural equipments and earns his living as a farmer. One day a boy comes and meets Ajayan claiming to be his son. Ajayan used to self Boast himself as a womanizer in his youth is believed to be the boy's father by all villagers. Ammukutty Amma starts getting to like the the boy and they form a very friendly relation and eventually she starts accepting the boy as Ajayans real son, though Ajayan ferociously reject the Boys Claim and dislikes him. The boy is persuaded by Ammukkty Amma to get close with Ajayan and subsequent events softens Ajayans attitude towards the boy. Ajayan then set forth to enquire about the real identity of the boy and travels to Chennai. He is absolutely sure that he is not his father as the real truth is his stories about adventures with woman were actually lies to get admiration of his friends. The climax show us that Ajayan accepts the boy as his own Son.
Duration : 2hrs 16 min

snehaveedu dvd 01.avi
snehaveedu dvd 02.avi
snehaveedu dvd 03.avi